#2 Choosing a trailer tent or folding camper
#2 Choosing a trailer tent or folding camper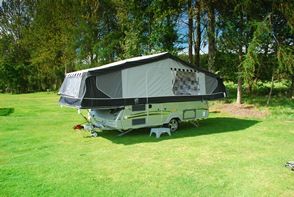 A folding camper without its awning
Trailer tents and folding campers are a small part of the camping and caravanning world, but an important one.
Speak to any relevant Club member about his or her trailer tent or folding camper and you'll soon be regaled with stories of why these represent the best of both tent camping and caravanning.
Easy and economical to tow, stow and own, yet offering enough facilities for full self-sufficiency if that's what you want, they seem to represent the ideal compromise between the joys of 'canvas' and the relative comforts of a 'tin tent'.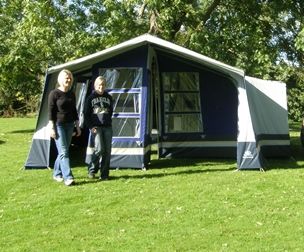 A trailer tent with awning
In fact, this style of camping unit can look expensive compared with a normal tent, but often good value in comparison to a caravan or motorhome. As ever, the choice is yours.
However, before you move to full ownership of a trailer tent or folding camper, there are a number of factors to consider as well as general buying information. Will your car tow it?
Where will you keep it? What are the key safety and maintenance concerns?
This Data Sheet is aimed primarily at those who are new to this type of camping unit, whether you're thinking of buying new or secondhand.
Spot the difference…
Camp-let trailer tent with non-pegging trailer body
There's a key difference between folding campers and trailer tents, which isn't always noticeable when the units are pitched on site. The trailer tent is best described as a tent in a trailer that pulls out and pegs to the ground, still using the trailer part for a bedroom area. Once pitched, often the only thing to distinguish it from a typical frame tent would be the trailer hitch.
A folding camper is where there is no canvas (except the awning, if used) pegged directly to the ground. Usually, bedroom areas will fold (or sometimes slide) out from the trailer unit, remaining off the ground once erected. There are others that are a half way house as pictured to the left below.
Price-wise, folding campers – with their higher levels of equipment – typically cost more than trailer tents, although this tends to even out if you're looking at the secondhand market, where you can expect to see good condition models available for anything from £2,000 upwards. Generally, folding campers are easier and quicker to put up and take down than trailer tents.
Note: Pennine for a short period produced a range of well-equpped folding campers called convertible caravans. These shouldn't be confused with a folding caravan as the latter has rigid sides, the Pennine product has fabric for the sides and roof.